A Company of Wayward Saints is based in the Fort Worth area of the Republic of Texas.
TD Baker


Cowtown Marathon 2005

Resident Pirate, David Glenn Studer
THE MUSICIAN'S BOX
Some of the pictures in this yellow-bordered-box are links.....just click on 'em, you will be magically transported to a new browser window. Others, just click on "so & so's website".
Paul & Helen Mateki



Andy Wilkinson

Chuck Pyle

Chrissie Hammonds & Martin Moss


My Friends From Bristol, England

Shake Russell

Dana Cooper

Twee Zangers

http://pages.ivillage.com/Songwriter2002/twee_zangers

Kavin Allenson

 
 
 
 
In this box are links to websites that are music-related somehow.
Jaket Guitars - Greg Jackson, Luthier

Band Link

Musi-cal

Jay Glicksman's Folk Page

Song Ramp

Savidetup - Music Info Galore

 
 
 
 
Inside the green bordered box below are non-music websites we recommend for your surfing pleasure....
The Animal Rescue Site

One click a day feeds an animal.

The Green Party

National Osteonecrosis Foundation

(Avascular Necrosis)

The Discovery Channel

Greenpeace

National Parkinson Foundation

George Herman

 
 
 
 
End-Of-The-Night Jam, Benefit Concert 2001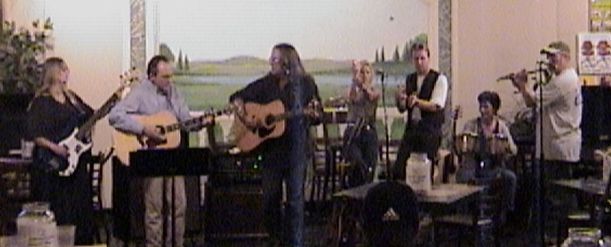 Chris, David Thomason, TD, Helen & Paul Mateki; Denise Stock & Steve Stevenson of 'Heartfelt'